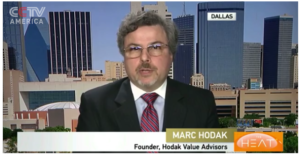 This week, I was a talking head on CCTV's The Heat with Anand Naidoo. I was brought in to comment on how poorly implemented corporate incentives could lead to the kind of scandals we have seen of late, e.g., Wells Fargo, Mylan, and VW. Being an expert on incentives and corporate scandal, it seemed like a good place for me to contribute. I believe that was also the impression of Richard Bistrong, who is an expert on corporate corruption and compliance.
Unfortunately, the interviewer instead peppered us panelists with questions about the corrupt relationship between business and politics. I was not entirely comfortable about that direction, not because I don't have well-supported opinions on that topic, but because it just wasn't what I was prepared to talk about. So, I kept trying to bring it back to corporate incentives, with modest success. (They cut my comment that, hey, I was a governance expert, not a political commentator.) I was ultimately able to make a few key points:
Perverse incentives were at the root of a number of the scandals
Those incentives are widespread in corporate America
It's getting harder for public companies to monitor internal bad behavior by virtue of their increasing size
My one acknowledgment of the politics was to counter one of the comments by the far-left lobbyist they brought on as a third panelist. He suggested (several times) that Obama's DOJ and SEC failed to do their job of wholesale jailing of bankers and executives because government prosecutors were involved in some sort of concerted effort to not prosecute criminals, what I called a reverse conspiracy theory.
Being relatively new to TV, I learned that my habit of looking up for a moment as I think about what to say may look a little shifty on camera. Need to keep my focus on the lens.